If your wallet's too big for loyalty cards, then download our app, a handy app that will store your Bonham Rewards card in addition to many other great features. You can download The Bonham Hotel app on the Apple App Store or Google Play.
Once downloaded, just enter your existing loyalty account details and simply present your smart phone to Reception who will scan the bar code to add points earned to your account. You can view your points balance and transaction history on the app too!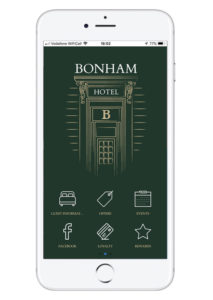 1/ Download The Bonham Hotel on the Apple App Store or Google Play
2/ Select Loyalty on the main menu
3/ Login with your registered email address and password used to access this website
4/ Present your smartphone to Reception to earn points for your visit!